Besides your phone contact as well as the company contact list you can also add contact manually.
This is helpful if -for some reason- contacts can't be added to the company directory, for example a Call Centre Supervisor extension.
Below screens might slightly differ in lay-out etc from your screen due to variance in Phone OS's.
In this example we will add contact John with extension 1000 and HP 0131234556
1. Open you AstiosUC and tap on the Contacts Icon.

2. Tap on the Add (+) Contact.

3. Enter the contact details.
a. Key in the First Name i.e. John
b. Key in the Last Name (Optional)
c. Tap the + to expand the SIP Addresses field and Key in the Extension number i.e. 1000
d. Tap the + to expand the Phone Number field and Key in the Phone number i.e. 01233255888
Note: If you want to add more SIP or Phone numbers for this contact tap the + again
e. Tap the checkmark to save the contact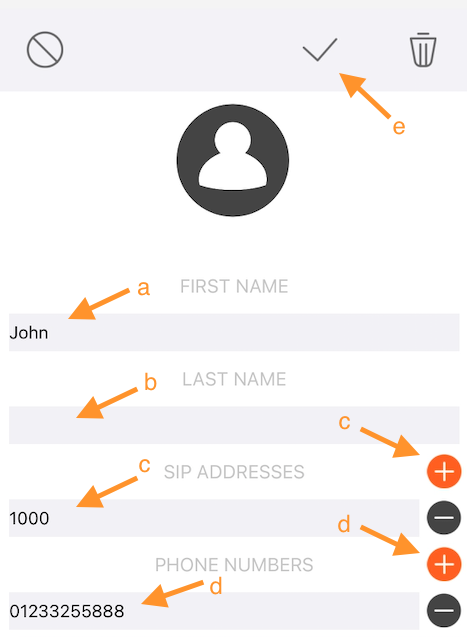 4. Now the contact has been added.
a. Tap the respective Phone Icon to make a call.
b. Tap the edit icon to edit this contact.
c. Tap the Delete icon to delete this contact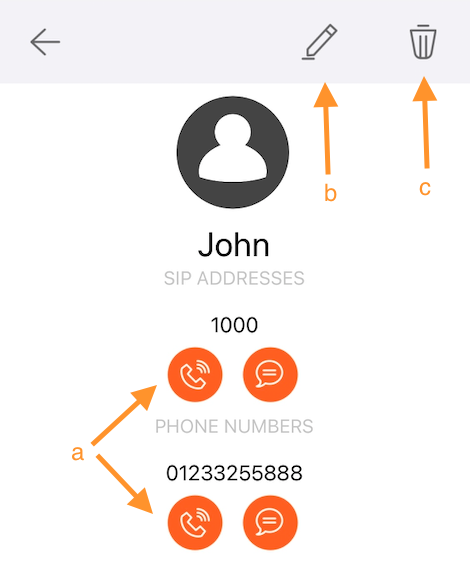 5. This contact will added and shown in your company contact directory.

​​​​​​​