When a call comes in a pop-up will appear at the bottom right corner, click the green answer button to answer the call.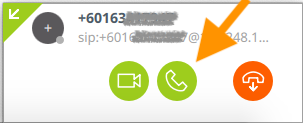 If you don't want to answer click the orange hang-up/reject button, the caller will then be terminated or if you have voicemail enabled the caller will be prompted to leave a message.
TIP: It will also show you the number of who is calling, the so called Caller ID.